Anne James is a Trained Professional Organizer
and a
Certified Home Stager
Anne has a genuine passion and a sincere belief in the knowledge of how simply we live is directly related to the degree of stress we carry in our lives.
Interior Design Training, Staging Certification, and 14 years of Organizing and Staging experience give Anne the ability to create a welcoming space for you or the buyer you seek.
At A Place For Everything, our company philosophy is clients' always come first. Optimal customer service, exceptional listening skills and creative solutions put the overwhelmed home-owner at ease.
The most gratifying part of what we do is watching people's lives change when they discover order and create an oasis for themselves at home.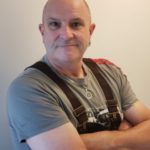 Mark James, our Handyman, has experience as a home building site supervisor. His knowledge and ability to repair just about anything adds to creating a beautiful space and a positive first impression when selling.
 Call us today to organize your space to live in or sell: 604•802•1378.